Virginia Moxley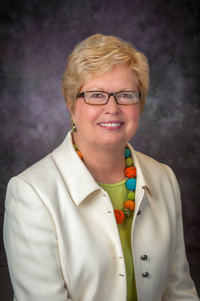 Conslutant
Email: moxley@k-state.edu
Virginia Moxley, is emeritus dean of the College of Human Ecology at Kansas State University, active as dean from 2006 to 2013. She co-founded and co-directed the Institute for Academic Alliances (IAA) through its first ten years. She now shares her expertness about alliance building as a consultant for IAA. Moxley was also a founding member of the Great Palins Interactive Distance Education Alliance (Great Plains IDEA).
Moxley's participation on the team to form the consortium began in 1995. From 2002, when the Great Plains IDEA leadership was formalized, until 2005, Moxley chaired the human sciences programs board of directors. During her tenure as board chair, the Great Plains IDEA initiated inter-institutional online master's degree programs in family financial planning, gerontology, youth development, and merchandising. Moxley also chaired the Great Plains IDEA cabinet overseeing the human sciences board and AG IDEA board from 2009-2010.
In 2012 Moxley received the Special Recognition Award from the Association for Continuing Education for clearly impacting continuing higher education with leadership and service. She was honored as a Friend of the Great Plains IDEA in April 2011. She was honored with the Ellen Swallow Richards Public Service Award in 2009 from the Board on Human Sciences of the Association of Public Land-Grant Universities Commission on Food, Environment, and Renewable Resources.
Moxley brings a unique perspective with her ability to creatively analyze situations and ideas. She is referred to by IAA colleagues as a futuristic thinker who can see the big picture.
A dedicated Kansan, Moxley received all her formal education from Kansas State University: a Ph.D. in Education, an M.S. in Family Counseling, and a B.S. in Clothing and Textiles. Additionally, she studied leadership and organizational change. Her pastime passions include family, love of gardening, flowers and design.